Exhibit Stickers & Labeling Admitted Exhibits at Trial
One often overlooked item when preparing for Tampa or Orlando trial is exhibit labeling and stickers for your evidence. Make sure you review your local court requirements and prepare your documents as required. There are several options for creating exhibit labels and stickers, from handwritten adhesive labels to custom electronic exhibit stickers.
Another consideration when creating an exhibit label is your functional objective. Are you creating an exhibit label for:  pre-marking your exhibits for reference in court (Example: Plaintiff's Exhibit 1 = PX001) or are you labeling for entering the document into evidence in court? If the labeling is for admitting the exhibit into evidence during the trial, you will likely need one of the court's stickers that has additional fields like Date Admitted or Admitted Exhibit Number
As an example, here is a link to the Tampa Courthouse clerk's requirements: 
Hillsborough County Courthouse (Tampa)
Link to PDF:  https://www.fljud13.org/portals/0/forms/pdfs/genciv/exhibitlist.pdf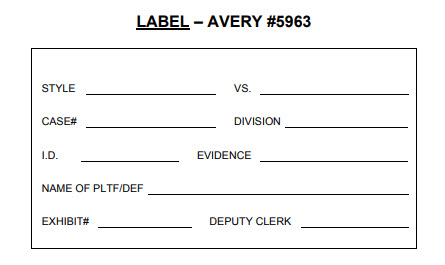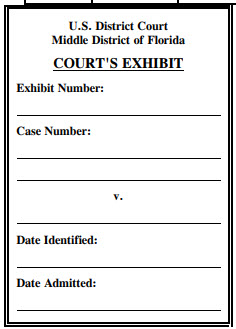 Custom Electronic Exhibit Stickers
Let's discuss the benefits of electronic exhibit stickers when doing your trial preparation work. If you are preparing for a trial in Federal court in Tampa or Orlando, you may need to customize your exhibit labels to meet the clerk's requirement but still have a more subtle look to your stickers compared to the rest of the legal document. Electronic exhibit stickers can becustomized to any particular color and font size. We recommend discussing the exhibit label with the clerk to make sure they will approve of the layout and text. 
Electronic exhibit stickers can be custom created to include any of the following:
Exhibit Sticker Color
Case Style
Case Number
Plaintiff – Defense – Joint Exhibit
Exhibit Number
One of the key benefits of electronic exhibit stickers is the ability to apply the stickers to a large volume of exhibits before printing your
trial notebooks
. On a recent case in Tampa, we received a last-minute call from a paralegal who needed a large volume of documents processed. We were able to process over 1500 exhibit stickers in a rush, while bates numbering and then print the trial notebooks to use in court. 
If you would like to discuss exhibit stickers or any document management needs for your next case,
contact us
 or call 
813-228-0550